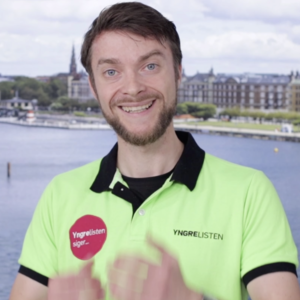 David Hansen
| | |
| --- | --- |
| List | Yngrelisten - de grønne STEMmer |
| Alder / Age | 36 |
| Arbejdssted / Workplace | Syddansk Universitet |
| Uddannelse / Education | Kemiingeniør & PhD i Innovation og Produktion, DTU |
| Retning / Field | Kemiteknik |
Hvem er jeg?
Jeg ønsker at bidrage til den bæredygtige omstilling gennem teknologi og samarbejde. Derfor arbejder jeg med forskning og uddannelse i global bæredygtig produktion på SDU og har også været på AAU og DTU. Jeg har været privatansat konsulent i 7 år og selvstændig i 3 år.
Jeg har bestyrelseserfaring som formand for Spejderbevægelsen i 5 år (fundraising: 150 mio kr; 30% medlemsvækst) og bestyrelsen i UNICEF i 3 år (fordobling af omsætningen).
Zetland lavede i 2019 et portræt af mig: https://www.zetland.dk/historie/se6E9A2q-a8DEYXaM-0c755
Hvorfor stiller jeg op?
Jeg vil arbejde for at IDA tager langt mere ansvar for den grønne omstilling. Vi skal finde nye måder at bringe fakta ind i debatten, samle aktører i at skabe konkrete løsninger, og være tænketank for teknologibaserede visioner og begrænsninger. Vi skal samle vores medlemmer og engagere den interdisciplinære faglighed, så vi peger på de væsentligste indsatser. Læs her hvorfor jeg synes ingeniører skal blande sig mere i den offentlige debat: https://ing.dk/artikel/ingeniorer-har-ansvar-at-bringe-fakta-ind-debatten-228417
Jeg er også vildt optaget af at skabe mere fleksible arbejdsliv, hvor der er plads til at drømme og få det ud af livet man selv ønsker. Som barn oplevede jeg sammen med min familie at tage et år ud af kalenderen og rejse. Som voksen har jeg både været på deltid for at kunne lave frivilligt arbejde og rejse og i perioder arbejdet benhårdt. Men det har været svært i det etablerede arbejdsmarked - det vil jeg gerne ændre på.
Hvorfor skal man stemme på mig?
Jeg brænder for at gøre IDA til en større spiller inden for den grønne omstilling - for vi skal sammen spille en langt større rolle

Jeg er erfaren bestyrelsesformand og har ledt mere end 50 bestyrelsesmøder
Jeg har fingeren på pulsen ifht. både forskning og uddannelse.
Who am I?
I want to contribute to sustainable transition through technology and collaboration across organizations and institutions. This is my motivation for working as an associate professor in global sustainable production at SDU, and in my former positions at AAU and DTU. I have also worked in the private sector for 7 years and had my own consulting firm for 3 years.
I possess board member experience from 5 years as chairman of the scout and guide movement in Denmark (fundraising: 150 mio DKK; 30% membership growth) and member of the board if UNICEF Denmark for 3 years (increased fundraising of +200%)
Why am I a candidate?
I want IDA to take more responsibility for the green transition. We need to find new ways of bringing necessary facts into public debate, gather actors in developing real solutions, and be a think tank for technology based visions and limitations. We need to connect our members and engage the inter disciplinary knowledge necessary to point towards the most important solutions.
I also care deeply for developing more flexible working lives where there is space for realizing dreams and living the live we want. As a child, I experienced that a family can take a year off work and school and travel together - because my parents dared to challenge the norms. As an adult, I have both worked part time to have time for volunteering and in other periods worked double time to achive my dreams at work. IDA should make it much easier for everyone to decide their working life.
Why should you vote for me?
I am passionate about IDA becoming a major player for green transition - together, we can make a difference

I am an experienced board member and have led more than 50 board meetings as the chairman
I know what̃'s going on with engineering research and education.